After 9 years of glory… We're just back, and refurnished 🙂
Conscious-Robots.com was born back in 2006 and soon became to be known as the "official unofficial site of machine consciousness research community". Of course, this might be opinable, but basically being the only guy in town, that nomination was not an improbable achievement. Anyhow, I feel proud of it and very grateful to all the collaborators that helped me over the years. To you: THANK YOU!! Here's a screen capture to be framed and hanged on your favorite wall: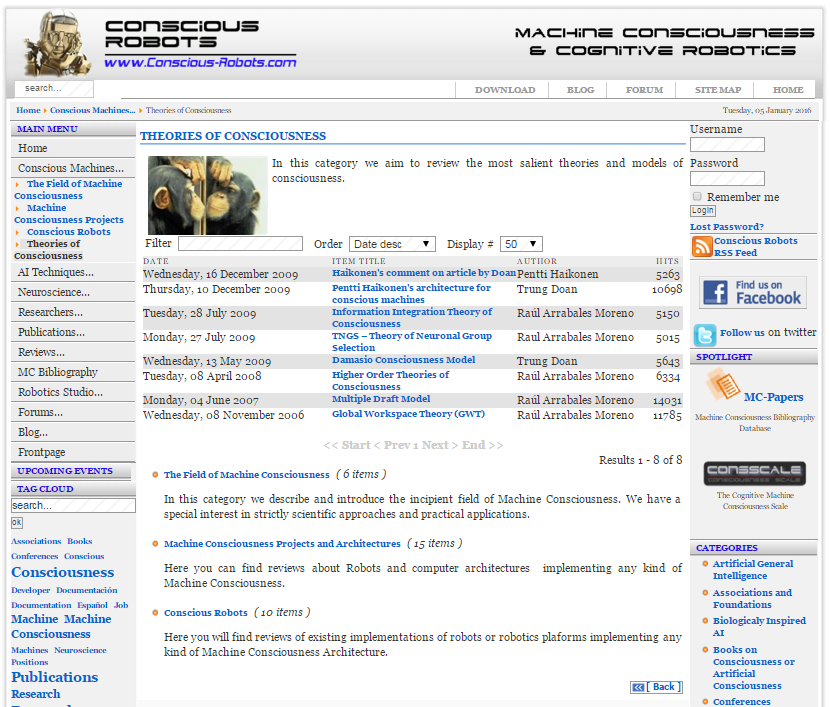 I just checked: it's been almost one million page views, more than 200.000 unique users, some nasty hacker attacks, and many of my hours. I'd say not bad, at least for a site which has been so specific and focused on Machine Consciousness and Robotics (specially Microsoft Robotics Developer Studio – RDS).
Even though some of the contents of the old site might be outdated, I'll be migrating most of them to the new blog, as I think they are still of interest for the community (this may take me some time, but don't worry, the treasures will be saved).
There are also thousands of messages in the forums, which sadly I think I cannot effectively recover (the Spanish version is gone due to problems with the old content management system and most of RDS stuff is clearly outdated).
So, good bye old CR, welcome Conscious-Robots reloaded!!